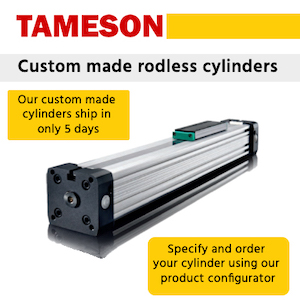 Do you have questions about our custom made rodless cylinders? Call us at +31.40.750.5795 or email us at [email protected]
Custom rodless cylinders
Tameson offers two types of custom rodless cylinders. A traditional pneumatic cylinder uses a rod to push or pull the load from the piston, a rodless cylinder moves the load alongside the piston. This gives the main advantages of having the same stroke length in significantly less space.
The cylinders are made by our german partner to-order and ship within 5 days. Two types are available: the PL series, a classical rodless cylinder and the PLF series, a flanged-top rodless cylinder. The main difference between both series is the way the load is mounted onto the cylinder, please view our datasheets below for more information. The PL series are available with diameters up to 40 mm and the PLF series up to 63 mm.
Use the configurator below to order your custom rodless cylinder.
Both the PL and PLF are availble with strokes up to 5700mm and can be completely customized to your needs. The general features are shown below. For further information please inform our technical article on rodless cylinders. No returns due to custom configuration.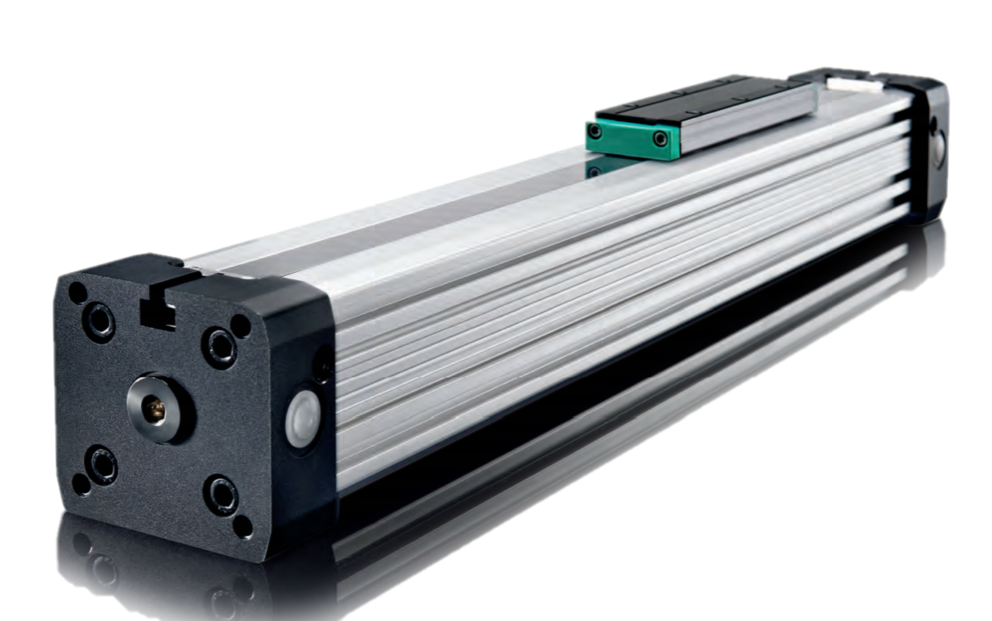 | | |
| --- | --- |
| Design | PL- & PLF-series |
| Stroke ø 25-63 mm | 100-5700 mm in 1 mm increments |
| Stroke ø 16 mm | 100-4400 mm in 1 mm increments |
| Air connection | M5, G 1/8'', G1/4'', G3/8'' |
| Forces & Moments | See below |
| Temperatures | -10 °C to 80 °C |
| Pressure | 0,5 – 8 bar |
| | |
| --- | --- |
| Materials | PL- & PLF-series |
| Barrel | High-strength anodized aluminum |
| End-caps | High-strength anodized aluminum |
| Pistol axle | High-strength anodized aluminum |
| Seals | V < 1m/s; NBR, V > 1m/s VITON |
| Sealing bands | Stainless steel |
| Piston caps | Wear proof synthethics |
| Sliding parts | Wear proof synthethics |
| Air medium | Compressed air, filtered max. 50µm |
Forces and moments
Forces and moments
Ma=F•ha Mr=F•hr Mv=F•hv
At 6 bar

Effect force

(N)

Cushioning (mm)

Max. allowed load (N)

Max. allowed bending moments (Nm)

Max. allowed torque (Nm)

Ø (mm)

Y (mm)

F

S

L

Ma axial

Mr radial

Mv central

PL

PLF

PL

PLF

PL

PLF

PL

PLF

16

9

110

15

120

120

4

4

0,3

0,3

0,5

0,5

25

14

250

21

300

300

15

15

1,0

1,0

3,0

3,0

32

18

420

26

450

450

30

30

2,0

2,0

4,5

4,5

40

22

640

32

750

750

60

60

4,0

4,0

8,0

8,0

50

28

1000

32

1200

115

7,0

15,0

63

36

1550

40

1650

200

8,0

24,0